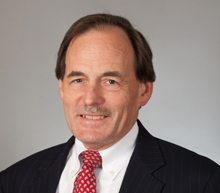 Blake J. Godbout, Esq.
Blake J. Godbout is the founder and managing member of Godbout Law, PLLC.
In 1975, Mr. Godbout graduated from Boston College with a degree in Political Science. After graduation, he worked for several years as a professional political consultant on state and federal campaigns, including the Presidential Campaigns of Sen. Henry Jackson and President Jimmy Carter.
Mr. Godbout attended Suffolk University Law School where he received his Juris Doctor in 1980. Upon admittance to the Massachusetts Bar, Mr. Godbout joined the Boston firm of Coyne, Hodapp & Linnehan, where he worked as an associate specializing in insurance defense litigation, insurance coverage interpretation and defense of automobile and homeowner's insurance claims.
In 1983, Mr. Godbout joined the Boston firm of Ricklefs & Uehlein as a senior litigation associate responsible for overseeing the firm's litigation department. In this role, Mr. Godbout handled plaintiff's personal injury matters, insurance defense and Worker's compensation subrogation claims under M.G.L. c. 152, §15.
In 1986, Mr. Godbout formed Blake J. Godbout & Associates, now known as Godbout Law, PLLC. Since that time he has maintained a vibrant litigation practice. Mr. Godbout's extensive trial experience includes Massachusetts' state and federal courts and the Massachusetts Bankruptcy Court. As the firm's managing attorney, he oversees and advises the Firm and its attorneys on all client matters.